The museum box is filled with good ideas that never seemed to make it into the product line. For instance there is the perfect skinny fender that he doesn't remember the construction details. Baskets made, of string, that were too time consuming to make into a commercial venture. One thing that is for sure He is an experience. People do track him down to share his experience. He is a walking reference on things made of rope.
Karen Armstrong: Shop Manager
Karen makes things happen. This woman is in charge. There is nothing that does not pass through her hands. We are allowed to do only what we are told to do. <![if !vml]>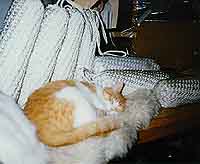 <![endif]>Not only does she build stuff, she sells stuff, bills stuff, packages stuff and sends stuff. And between times she answers the phone and talks to our pleasant customers.
Toby: Chief Watch
Guardian of humor, He is a pivotal player in our highly technical organization . He is in complete charge of inventory. If orange hair is found on the products chances are he was sleeping on the job again. He is also in charge of loose ends. He loves to track them down.